Energy-Efficient Attic Insulation for Homes in Bad Axe, MI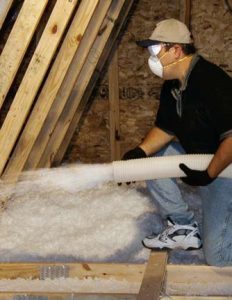 Do you find yourself continuously adjusting your thermostat to feel comfortable inside your home? As a result, are your energy bills consistently rising each month? If so, consider investing in attic insulation for your home in the Bad Axe, Michigan, area. We offer blown-in fiberglass insulation by industry-leading manufacturer Owens Corning that will increase your home's:
Energy efficiency – Our attic insulation will help keep your home's interior warmer during the winter and cooler during the summer. This will lower the strain on your HVAC system to maintain comfortable interior temperatures, which can result in reduced monthly utility costs.
Noise reduction – Our attic insulation can help reduce noise transference, so you can get more peace and quiet in your home.
Air quality – Attic insulation can help prevent pollen, dust, and other pollutants from entering your home.
Value – You can receive an appreciable return on your investment, since fiberglass insulation is long-lasting and can help improve so many aspects of your home.
Expert Installation
At All-Weather Seal, we take pride in providing highly meticulous, expert installation services for all of our products, which is partly why we maintain a prestigious A+ Better Business Bureau rating year after year. When you turn to us for attic insulation, you can rest assured that our own professionals—not subcontractors—will perform your installation using best practices to ensure it performs as intended long into the future.
If you'd like to learn more about the attic insulation services we offer, contact All-Weather Seal today. We're proud to serve homeowners in the Bad Axe, MI, area.