Premium Seamless Gutters Available for Residents in Michigan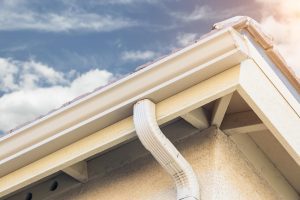 "You never miss the water till the well runs dry." No doubt, you've heard that one before. Here at All-Weather Seal, we think that some homeowners never miss their gutter system until it stops working. As exterior home improvement professionals serving residents of Michigan since 1981, we fully understand the average homeowner's experience. Most gutters are designed to be unobtrusive and serve one purpose – to direct rainwater or snowmelt away from your home. But make no mistake, it's a critical function. If your gutters are broken, split, or clogged, they won't channel water effectively. A likely result? Costly damage from the water that has collected on your property and seeped into your home's foundation. But with our premium seamless gutters, you can avoid all that hassle and expense.
Why Homeowners Prefer Our Gutters
Unlike sectional gutters, our gutters lack unsightly seams and splices, so they won't detract from your home's appearance. Rather, they will present sleek uniformity along the edge of your roof. Not only that, our gutter systems are also:
Far less prone to clogging as there are no seams or splices to snag leaves and other debris
Easy to maintain, since clearing clogs will rarely be necessary
Less likely to leak, owing to a lack of seams, which tend to separate over time
Built from hardwearing aluminum to deliver years of long-lasting protection from water damage
Of course, all these benefits mean nothing if your seamless gutters are not properly installed. With All- Weather Seal as your home improvement partner, you can expect nothing less than masterful installation. Under the guidance of an experienced project supervisor, our skilled employees will install your gutters to the precise dimensions of your roof, ensuring a flush fit that virtually eliminates any chance of leaks.
For more information about the seamless gutters we install for residents throughout Michigan, contact All-Weather Seal today.