Long-Lasting Metal Roofing for Homeowners throughout Michigan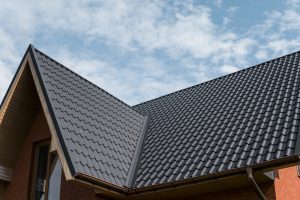 When you were younger and voiced a desire for something unobtainable, your parents probably said, "Just be happy you have a roof over your head." Now that you're a Michigan homeowner, a little bit older and wiser, you certainly appreciate what you have. But, still… you wouldn't mind an upgrade here and there. In fact, let's be honest, you wouldn't mind having the best that you can afford. Fortunately, All-Weather Seal Co., Inc. can help you with that. That roof currently over your head? As metal roofing experts, we can make it a metal one, which can give you more bang for your buck than any comparable product.
Aside from being an incredible investment (they can last up to 70 years), metal roofs can also increase the resale value of your home. But, we don't think you'll want to sell your home anytime soon after we install your new metal roof. Unlike roofing made from other materials, our metal roofs can withstand the severest weather conditions with minimal maintenance. Plus:
We can install metal roofing over your existing roof to save you time and money
The reflective properties of our metal roofs prevent heat buildup, potentially saving you significant money on energy costs
We back our roofing systems with a lifetime warranty to give you peace of mind about your investment
Customer Care Excellence
At All-Weather Seal, it's never just hi, followed by roof installation, and a quick goodbye. Our team of expert installers, under the guidance of a project leader, will make sure that every inch of your new roof fits flush and looks splendidly uniform, just as you envisioned. And, when we say goodbye, you should know that you'll be hearing from us again. As part of our customer care policy, we follow up with every customer, whether in Flint or elsewhere in Michigan, to ensure that they are completely satisfied with our work.
Contact us to learn more about our metal roofing options, and please ask about the flexible financing plans we offer to qualified homeowners.