Professional Attic Insulation Service for Homeowners in Michigan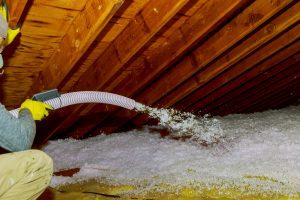 If you're like many homeowners in Michigan, heating and cooling accounts for much more than half of the energy your household consumes. At All-Weather Seal Co., Inc., we install premium attic insulation that will significantly improve your home's thermal efficiency and, thus, help to control your energy costs. As is the case with all of the home improvement products we offer, our attic insulation has the lowest U-factor among comparable products. The lower the U-factor, the greater the resistance to heat transfer. Less heat transfer means that your home will maintain its comfort level much better, staying cool in the summer and warm in the winter.
A Trusted Home Improvement Partner
We are the area's leading home improvement company for good reason. Not only can we provide you with the best attic insulation available, but our exceptional customer service also is unmatched in the industry. Recognized by HomeAdvisor and Consumers Energy as a top contractor and rated A+ by the Better Business Bureau, we uphold our lofty standards by relying only on our trained and experienced employees – not subcontractors – for all of our installation projects.
Why Our Attic Insulation is Superior
Made by the respected manufacturer Owens Corning®, the blown-in fiberglass insulation we install will expand to fill all the cracks and crevices in your attic, creating a virtually airtight seal. And, since fiberglass insulation does not settle, it will maintain its energy-saving insulating properties over the years. With our insulation installed in your attic, you can also expect:
Your HVAC unit to cycle less frequently as it won't have to work as hard to maintain a desired temperature, which means it could potentially last longer
More peace and quiet inside the home due to our insulation's noise-dampening properties
An appreciable return on your investment because fiberglass insulation is long lasting and can help deliver many years of energy savings
Plus, our customer service continues long after the project is finished because we will reach out to you to make sure you're totally satisfied with your insulation. Want to know more about the attic insulation service we offer? Then contact All-Weather Seal today.