Attic Insulation Services for Homeowners Throughout Fenton, MI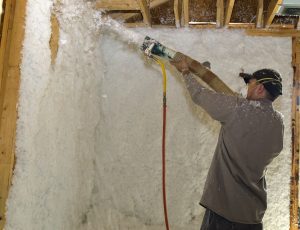 Since our inception in 1981, All-Weather Seal Co., Inc., has been committed to providing residents of Fenton and neighboring Michigan communities, the finest home improvement products and services. With that comes the recognition that homeowners are busy people, and when they plan projects, price nearly always plays a major role in their decision-making. So, All-Weather makes it as efficient and convenient as possible for you if you need new attic insulation. As part of our roofing services, our technicians will closely inspect the condition of your attic insulation free of charge and give you their honest assessment.
Cost-Effective Fiberglass Insulation
We install fiberglass insulation made by the respected manufacturer Owens Corning®. We use a machine to blow the insulation directly to the areas that need coverage—a much faster process than adding batt insulation. As a result, fiberglass insulation has a lower installation price than batt and many other types of insulation, and, for equivalent thermal resistance, fiberglass is generally more cost-effective than cellulose or spray foam insulation systems. Our fiberglass insulation will expand to fill all the cracks and crevices in your attic, creating a virtually airtight seal. After we've blown insulation into your attic, you can expect:
Your HVAC unit to cycle less frequently since it won't have to work as hard to stabilize your indoor temperature, which means it could potentially last longer
A quieter home due to fiberglass insulation's noise-dampening properties
Enhanced fire protection because blown-in fiberglass is nonflammable
Contact All-Weather Seal if you'd like to know more about the attic insulation service we offer to Fenton, MI, residents. As a company rated A+ by the Better Business Bureau, we back our installation services with robust warranties to ensure peace of mind in your investment.