Attic Insulation Services for Residents of Lansing, MI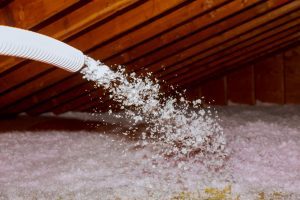 If your home is like others in Lansing, Michigan, your attic may be one of the biggest sources of home energy loss. Many attics in our area simply lack proper insulation. When correctly installed, good attic insulation—blown-in fiberglass, in particular—makes a huge difference in thermal indoor comfort and home energy efficiency. In fact, one of the main indications of an improperly insulated attic are rooms that are too hot in the summer and too cold in the winter. With new attic insulation, however, you can enjoy more stable indoor temperatures, which means less work for your HVAC system and potentially lower energy bills for you.
At All-Weather Seal Co., Inc., one of the longest-tenured exterior home improvement companies in Michigan's lower peninsula, we install premium blown-in fiberglass insulation from the nationally renowned company Owens Corning®.
An Affordable Way to Improve Home Comfort
When you reach out to All-Weather Seal for a roofing project, we will come out to examine the condition of your roof as well as your attic insulation. If our technicians deem that you need more insulation, we will be happy to add it for you. You may need insulation if:
Rooms located below the attic are not as thermally comfortable as other parts of the house
Your electricity bills or heating costs are rising
You experience cold drafts indoors during the winter
Your attic floor joists can be seen above or between existing attic insulation
Your attic has less than 10 inches of insulation.
Ductwork above your insulation is exposed
Contact All-Weather Seal if you would like more information about our attic insulation service. Rated A+ for customer satisfaction by the Better Business Bureau, we proudly serve homeowners throughout the Lansing, MI, area.