Beautiful Awning Windows for Lansing, MI, Homeowners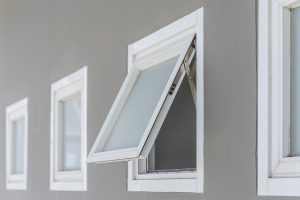 Awning windows present a unique set of benefits that can enhance the look and functionality of your home. They are easy to operate, can be installed higher on your walls, and offer optimal air circulation—even when it's raining. At All-Weather Seal Co., Inc., we are proud to offer high-quality, durable awning windows to Lansing, Michigan, homeowners.
How Do Awning Windows Work?
Awning windows are hinged at the top and swing outward from the bottom. This means that when the window is open, the glass pane helps block rain from entering your home. Thanks to their unique design, awning windows offer better ventilation and air circulation than traditional sliding windows. Plus, since they can be placed higher on the wall than other styles of windows while still allowing you to conveniently reach the opening mechanism, awning windows can provide better natural lighting for your home.
This type of replacement window is also highly energy efficient, which can help keep your home at a comfortable temperature throughout the year, reduce strain on your heating and cooling systems, and potentially even save you money on your energy bills.
Why Choose All-Weather Seal?
We've been serving the Lower Peninsula since 1981 and have built a longstanding reputation for excellence. But don't just take our word for it—we've earned numerous awards and accolades that speak to our superior craftsmanship and ethics, including:
An A+ rating from the Better Business Bureau
The Consumers Energy Silver Award
Designated HomeAdvisor Elite Service & Top-Rated Contractor
The State of Michigan's Governor's Award
The National Association of Siding and Windows Dealerships' Ethics in Business Award
To learn more about our awning windows as well as our other replacement window options, contact All-Weather Seal today. We'd be delighted to schedule a free consultation at your Lansing, MI, home to answer any questions and help you decide whether awning windows are right for you.