Benefits of Fiberglass Insulation for Fenton, MI, Homeowners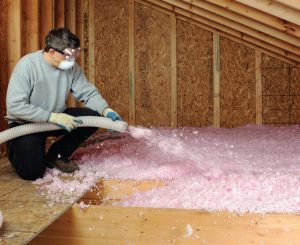 Fiberglass insulation from All-Weather Seal Co., Inc, has proven its ability over the years to make buildings more energy efficient. By easing your HVAC's work of stabilizing indoor temperatures, fiberglass insulation can contribute significantly to reducing utility costs. That's one of the biggest reasons for fiberglass insulation's widespread use in green building projects in the Fenton, Michigan, area. But it's also a smart choice for any homeowner looking to replace or add attic insulation, thanks to these primary benefits:
Improved Thermal Comfort
Fiberglass insulation retains the desired temperature of enclosed spaces, whether they are heated or cooled. In addition to reducing utility costs, this enhances indoor comfort. And because All-Weather Seal's installers use a pneumatic device to blow in fiberglass insulation, we can easily add it to meet almost any thermal resistance requirement and can even install it over existing batt insulation.
A Quieter Home
Many homeowners are surprised that their rooms are noticeably quieter after fiberglass insulation service. But fiberglass building insulation is used widely for acoustical as well as thermal purposes. A naturally sound-absorbent material, fiberglass can significantly reduce sound transmission into and out of attics, ceilings, and HVAC assemblies.
More Fire Protection
Made from sand and recycled glass, fiberglass insulation is noncombustible and requires no fire-retardant treatments. In fact, many building codes recognize fiberglass insulation as an effective fire stop in wood- and steel-framed wall assemblies.
To learn more about the benefits of fiberglass insulation, contact All-Weather Seal today. We would be happy to provide you with more details about our affordable blown-in insulation service.