Blown-In Insulation Services Available for Fenton, MI, Residents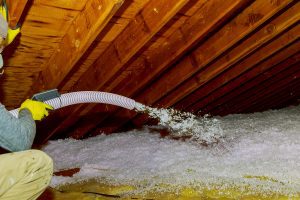 Blown-in fiberglass insulation has long been a top choice for homeowners who want to add extra insulation to their attics. Like the best types of insulation, blown-in fiberglass not only helps to control utility costs by improving home energy efficiency, , but it also offers a host of other benefits. And that's why All-Weather Seal Co. Inc., installs blown-in insulation for residents of the Fenton, Michigan, area. Made by the nationally renowned company Owens Corning®, our attic insulation seals even the tiniest crevices and reaches every corner to limit heat flow into and out of your home. And because it doesn't settle, it will maintain its energy-saving properties over the years.  With our attic insulation, you can expect:
A More Comfortable Home
By minimizing heat transfer, our blown-in insulation will make it easier for your HVAC to maintain a comfortable indoor temperature, thus reducing the machine's workload and potentially reducing your energy bills for the long term.
Added Fire Resistance
Made from sand and recycled glass, fiberglass insulation is completely noncombustible and remains so for its lifespan.
More Moisture Resistance
When exposed to moisture, blown-in fiberglass insulation will not absorb water, which means much less risk of mold growth in your attic.
More Peace and Quiet in the Home
Due to its sound-dampening properties, fiberglass insulation reduces sound transmission into and out of the home.
For more details on the benefits of blown-in insulation, contact All-Weather Seal. We offer attic insulation replacement as part of our roofing services, and can give you information about both through a complimentary consultation at your Fenton, MI, home.