Blown-In Insulation Installed for Lansing, MI, Homeowners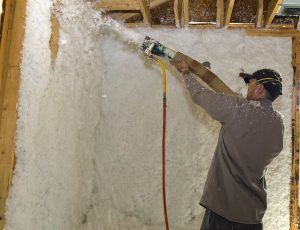 Homeowners choose blown-in insulation for their homes because it effectively maintains indoor comfort and saves energy—that's the bottom line. At All-Weather Seal, Co., Inc., we use blown-in fiberglass insulation from Owens Corning®, which does not settle. This means that it will properly seal even the tiniest cracks and crevices in your attic, drastically slowing the heat flow into and out of your home. This eases your HVAC system's workload, potentially reducing your energy bills for the long term. In fact, some Lansing, Michigan, homeowners report saving as much as 40% on energy costs after the addition of blown-insulation to their attics.
Benefits of Our Blown-In Insulation Service
As our top contractor designation from HomeAdvisor suggests, we make blown-in insulation as simple as possible for local residents. When you reach out to us for a roofing project, we will inspect your attic insulation. Our technicians will give you an honest assessment, and if you choose to have insulation added, you can expect:
Efficient service – We use a machine to blow the fiberglass insulation directly to the areas that need coverage in a process that's much faster than the installation of batt insulation.
Enhanced fire protection – Blown-in fiberglass insulation is nonflammable.
Reduced attic condensation – Our insulation does not absorb moisture, so it won't support mold growth.
More peace and quiet in the home – Blown-in insulation dampens outside noise.
Learn More
If you would like to learn more about our blown-in insulation service or its benefits, contact All-Weather Seal today. We serve homeowners throughout the Lansing, MI, area, and offer follow-up service to ensure our customers are fully satisfied with every aspect of our work.