Exterior Doors Installed for Homeowners in Lansing, MI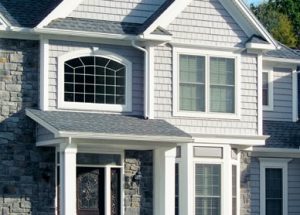 You use your doors continually throughout the day, year after, so it only makes sense when shopping around for replacements to focus on durable products from well-regarded manufacturers. In the United States, ProVia® has become the go-to door maker for homeowners because its doors offer all the advantages that any exterior door should provide and some that few doors can—energy-efficient performance, for example. This is highly important in Lansing and other parts of Michigan, where temperatures often dip to teeth-chattering levels and a sizable portion of homeowners' monthly costs go toward home heating and cooling. That's one big reason why All-Weather Seal Co., Inc., installs energy-efficient doors crafted by ProVia. The other reason is that they are simply attractive products that can enhance the look of virtually any home.
Entry Doors
Crafted from steel or fiberglass, our entry doors are designed with strength and visual appeal in mind. After all, doors are one of the first features of your home that visitors see and as well as a primary component of home security. Our entry doors:
Are available with customizations that include sidelites, windows, a variety of gorgeous colors and finishes, and decorative hardware, allowing you to create an entryway that fits your home's architectural style
Feature a rigid composite lock block that reinforces the deadbolt for extra security
Storm Doors
As the name suggests, storm doors are designed to withstand extreme weather, providing your home with an extra barrier of protection. Our storm doors:
Are constructed of hard-wearing aluminum that's 20% thicker than the industry standard, making them exceptionally durable
Feature a proprietary paint process that ensures long-term resistance to scuffs, scratches, and fading
At All-Weather Seal, we also install patio doors in several different styles and configurations. And we back all of our door installations with a lifetime labor warranty to give you peace of mind. Contact us if you would like to learn more about the doors we offer to Lansing, MI, homeowners. We offer at-home consultations that include free estimates.