Gorgeous Double-Hung Windows for Homes in Flint, MI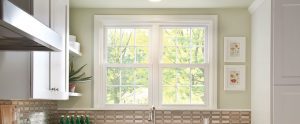 Double-hung windows are a timeless choice for any home, and we have the finest quality selection at All-Weather Seal Co., Inc. We are a home improvement company that has been serving the Flint, Michigan, community since 1981, and we've earned numerous accolades—including a consistent A+ Better Business Bureau rating—for our dedication to quality. When you turn to us for new windows, you can rest assured you'll get the utmost value for your investment.
Customize to Your Heart's Content
At All-Weather Seal, we offer three different window materials to choose from to suit your home, taste, and budget: vinyl, wood, and fiberglass. No matter which material you choose for your new double-hung windows, you can rest assured that they'll be:
Durable – Your new double-hung windows will resist warping, rotting, and other forms of wear and tear over time.
Energy efficient – Our windows are designed to insulate your home, keeping its interior warmer during the winter and cooler during the summer. This will reduce the strain on your HVAC system and potentially lead to lower energy costs.
Gorgeous – Our windows are masterfully crafted with an extreme attention to detail, and they'll be customized using an array of colors, finishes, hardware, glass designs, and grille patterns that will beautify your home on the inside and out.
Additionally, we will back your new double-hung windows with a lifetime labor warranty, in addition to limited lifetime manufacturer warranties, so you can have total peace of mind.
To learn more about the double-hung windows we offer to homeowners in the Flint, MI, area, contact the helpful and knowledgeable professionals at All-Weather Seal today.