Fiberglass vs. Cellulose Insulation: Which Is Better for Lansing, MI, Homeowners?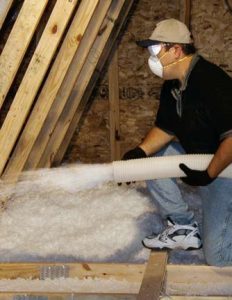 Choosing the right material for your home's attic insulation can have a lasting impact on your comfort as well as your heating and cooling costs. Today, the two most common, safest, and cost-effective insulation options are blown-in fiberglass and blown-in cellulose. So, which is better at maintaining a home's thermal comfort? That's the question many Lansing, Michigan, homeowners have when prepping their homes for the winter. Let's examine attributes of these insulation products to see why fiberglass may have the edge.
R-Vale & Installation
Fiberglass and cellulose are both used for thermal insulation and come in a range of R-values. The R-value is the capacity of an insulating material to resist heat flow. The higher the R-value, the greater the insulating power. Cellulose offers more depth in R-value. In other words, it takes at least 12 inches of fiberglass to secure an R-30 rating while cellulose requires only 8 inches to gain the same rating. But fiberglass is lighter, which makes it easier to install and efficiently cover all the attic areas that require insulation.
Longevity & Overall Performance
While cellulose may provide more depth, it can lose its R-value over the years. It has also been known to pack and settle after installation, which can create air pockets that allow heat transfer into and out of your attic. Fiberglass, on the other hand, does not settle and stays in its original form and shape, which means it maintains its insulating properties for the long haul. Because fiberglass is also nonabsorbent, it resists mold and mildew growth. Plus, fiberglass is naturally nonflammable, unlike cellulose, which has to be treated with fire-retardant chemicals.
As the premier home improvement company serving the Lansing, MI, area, All-Weather Seal Co., Inc. installs blown-in fiberglass insulation, the more energy-efficient choice. Contact us today to learn more about our attic insulation service.