Fiberglass vs. Cellulose Insulation: Which One Is Better for Homes in Saginaw, MI?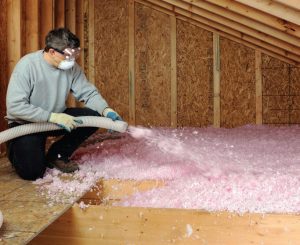 So, you suspect you may need insulation added or replaced at your home and are wondering which is better—fiberglass or cellulose insulation? Both types are used widely for residential and commercial projects in the Saginaw, Michigan, area, offering exceptional resistance to heat flow. That means that both can help preserve your home's indoor comfort throughout all seasons. However, if cost-effectiveness is a priority, fiberglass insulation may be the better option.
R-Value & Installation
Insulation's capacity to resist heat flow is measured in terms of R-value; the higher the R-value, the greater the insulating power. Fiberglass and cellulose come in a variety of R-values, and while cellulose offers more depth in R-value, requiring less insulation to gain the same rating, fiberglass is lighter, which makes it easier to cover all the attic areas that require insulation. What's more, fiberglass allows for high compression without any decrease in effective R-value, so manufacturers can pack more product into their bags, which then reduces the space needed for storage and transportation. And because installers use a pneumatic device to blow in the compressed fiberglass insulation to the desired depth and between the smallest gaps, the entire process is faster and thus more cost-effective.
Performance & Lifespan
Cellulose can lose its R-value over the years because it often settles after installation, creating air pockets that allow heat transfer into and out of the home. By contrast, fiberglass does not settle and stays in its original shape, which means it maintains its insulating properties for the long term. Fiberglass insulation also lasts longer, with a lifespan as long as 80 years unless damaged. Compare that to cellulose, which has a typical lifespan of 20-30 years.
As an experienced home improvement company serving Michigan homeowners since 1981, All-Weather Seal Co., Inc. installs blown-in fiberglass insulation made by nationally renowned company Owens Corning®. Our insulation seals even the tiniest attic crevices and reaches every corner to limit heat flow into and out of your home. If you would like more information about our insulation service, contact us today.