Why Fiberglass Windows Are Perfect for Homes in Flint, MI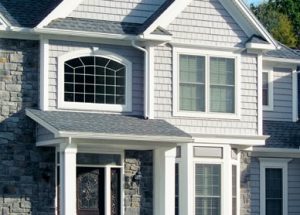 Maybe you're interested in fiberglass replacement windows because you've heard they are some of the toughest windows on the market. While that's certainly true, you may not realize that fiberglass windows also deliver excellent thermal performance. In Flint, Michigan, where the winters are often severe and summers can get surprisingly steamy, temperature fluctuations can take a toll on window frames and home energy efficiency alike. And that's why many local homeowners prefer fiberglass windows. Few other windows combine durability and thermal performance to such great effect.
All-Weather Seal Co., Inc., one of the longest-tenured exterior home improvement companies in Michigan's lower peninsula, installs premium fiberglass windows from the nationally renowned manufacturer Pella®.
Fiberglass Windows That Blend Style With Function
Our fiberglass windows wouldn't be so popular if they lacked style, but our Pella fiberglass selection exhibits that in spades. Finely crafted in a range of window types—from double-hung and casement to awning and bay—Pella fiberglass windows feature a fade-resistant powder-coat finish that lends them the elegant look of painted wood. Furthermore, these windows:
Resist the expansion and contraction caused by temperature fluctuation, thereby maintaining their weather-tight seal
Come in several attractive frame finishes like morning sky gray, poplar white, and portobello
Are available with foam-insulated frames and triple-pane glass for improved thermal performance that could lead to significant energy savings
How Do Energy-Efficient Fiberglass Windows Work?
The goal of energy-efficient windows is to regulate your home's temperature by controlling heat transfer. You can't see everything that makes these fiberglass windows energy-efficient, but that doesn't mean they're using some kind of magic you can't understand. They're specially engineered to keep your home cooler in the summer and consistently heated in the winter by keeping inside air from escaping and outside air from entering:
Low-E glass coatings let visible light enter your home, but not harmful ultraviolet (UV) and infrared rays. This protects your furniture from fading and sun damage.
One way these windows create insulation is through multiple glass panes. While our windows have triple-pane glass, some have as few as two panes and others have as many as five.
Dense gas fills the gaps between multiple panes of glass, which creates additional insulation and further controls heat transfer. This is usually argon gas, which is invisible to the naked eye.
Spacers separating each pane act as a sealant for your windows, which helps regulate temperature and keeps the gas from escaping. If the gas leaves your fiberglass windows, you'll sometimes see condensation form between the panes.
Insulated frames are either filled with foam—like the ones we install—or have hollow inner chambers that trap air.
With Pella fiberglass windows installed on your home, you never have to worry about the quality of the product. These energy-efficient windows are built to last no matter what the Michigan weather throws at them.
Schedule a Complimentary Consultation
One of our window specialists can give you more details about the fiberglass replacement windows we install. Just contact All-Weather Seal to arrange a no-obligation consultation, and when you do, ask about the financing plans available for qualified Flint, MI, homeowners.