Metal Roofing Can Dependably Protect Your Ann Arbor, MI, Home in the Harshest Weather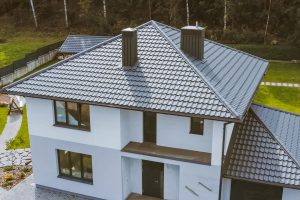 Replacing a worn or leaking roof doesn't have to be a daunting prospect. On the contrary, it can be a rewarding undertaking that fills you with confidence your home and belongings are well-protected from the elements. The challenge, of course, is to select the roofing option that will give you this assurance while also delivering other benefits you expect from such a high-level home investment—namely beauty and durability. As an Ann Arbor resident, you'll be pleased to know that it won't be much of a challenge when you turn to All-Weather Seal Co. Inc. We install attractive metal roofing that can withstand season after season of severe Michigan weather without corroding or cracking. In fact, our metal roofing options are constructed to last as long as 70 years.
The Last Roof Your Home Will Ever Need
We install three types of metal roofing—MasterRib®, stone coated, and standing seam. They're available in several eye-catching profiles and colors, so finding an option that satisfies your tastes and complements your home's exterior will pose no problem. Additionally, our metal roofs:
Reflect solar heat, which will improve your home's energy efficiency and lead to appreciable energy savings
Are a breeze to maintain, requiring only occasional checks for scuff, dents, and fallen tree limbs
Are backed by a lifetime warranty for peace of mind in your investment
Learn More
Contact All-Weather Seal for more information about our metal roofing systems. We can schedule a no-obligation at your Ann Arbor home at your convenience.