Long-Lasting Metal Roofing Installed for Residents of Brighton, MI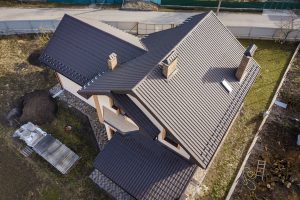 In addition to kitchen renovations and bathroom remodels, new roofing is one of the biggest home improvement projects you can undertake. So it makes sense that, as you consider a roof replacement for your Brighton home, you place a special focus on roofing materials that will reward your investment. To do that, a new roof must be able to perform all its most obvious functions reliably – protect your home from the weather, add visual appeal to your property, and improve your home's energy efficiency. While there are a number of quality roofing materials on the market, arguably none delivers these performance benefits as effectively as metal. That's why, at All-Weather Seal Co., Inc., metal roofing is the only roofing material we install.
Advantages of Metal Roofing Systems
Unlike traditional asphalt-shingle roofs, which are pretty commonplace, our metal roofs present a distinctive appearance, with clean, graceful lines that have made them a perennial favorite on a wide range of architecture. You can choose from three types of metal roofing– MasterRib®, stone coated, and standing seam – all of which are available in a variety of beautiful profiles and colors. Aside from elevating the look of your home, our metal roofs provide:
Exceptional protection – Our metal roofs can withstand wind gusts up to 140 miles per hour as well as driving rain, hail, ice, and snow without cracking or corroding.
Longevity – Our roofing systems can last as long as 70 years, which means you may never need to replace your roof again.
Energy efficiency – Because metal roofs reflect solar radiant heat, you'll be able to reduce your cooling costs by as much as 25 percent.
Advantages of Choosing All-Weather Seal
With us as your roofing contractor, you'll have complete confidence in your home improvement investment. Only our extensively trained employees, as opposed to subcontractors, will install your metal roofing, and we back all of our roof installations with a lifetime labor warranty. Contact us today to learn more or to schedule a free consultation at your Brighton home.