Our Seasoned Professionals Can Install Metal Roofing on Your Gladwin, MI, Home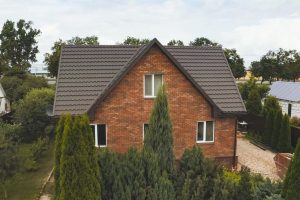 A roof is never just a roof. In addition to protecting your home, family, and belongings from the elements, your roof plays a sizeable role in your home's appearance. After all, it's a major component of your home's architectural design. But now that you need a new roof, you may find yourself justifying your inclination to go with a lower-cost asphalt shingle roof instead of the metal one you really want. All-Weather Seal Co., Inc. wants to change your mind. We install metal roofing that can be more cost-effective in the long run than any other roofing system. In fact, our metal roofs may make this roof replacement the last one you'll ever need for your Gladwin home.
The Benefits of a Metal Roof
Sure, metal roofing is an investment—an especially smart one. Why? A metal roof can last as long as 70 years. Compare that to the 25-year lifespan of asphalt roofs. Furthermore:
To save you time and money, our roofing experts can install your new metal roof over your existing one
You may save money on energy costs because metal roofs reflect solar heat, which prevents heat buildup in your home
A metal roof is a breeze to maintain and requires only an occasional check for scuffs, dents, or fallen tree limbs
Let Us Help
We offer MasterRib®, stone coated, and standing seam metal roofs in several stunning profiles and colors, so finding metal roofing that complements your home's exterior and matches your taste will not be a problem. One of our roofing specialists will be happy to give you more information about our options as well as offer professional advice about which metal roof may be right for your Gladwin, Michigan, home. To get started, contact All-Weather Seal today.