Long-Lasting Metal Roofing Available to Homeowners in Midland, MI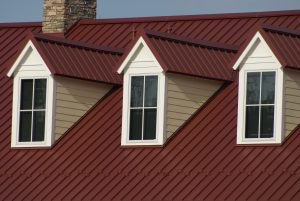 So, it's time to replace the roof of your Midland home. You knew this day was going to come; you just didn't think it would be here so soon. We understand your apprehension. Roof replacement is a major investment. But at All-Weather Seal Co., Inc., we have the knowledge and expertise to ease your concerns. We are an award-winning roofing contractor with more than 35 years' industry experience, and we install metal roofing that can make this roof replacement the last one you'll ever need.
Why Choose Metal?
Metal roofs cost may more than the popular alternative asphalt shingles, but they also offer a greater return on investment. For one, metal roofs last much longer. While the average lifespan of asphalt roofs are about 25 years, metal roofs have been known to last 70 years or more. Additionally:
They are incredibly strong and wind-resistant and can withstand season after season of bad weather without corroding or cracking, for protection you can trust.
Metal roofs reflect solar heat, which can reduce your energy costs appreciably
Maintaining a metal roof is simple, requiring only occasional checks for dents and scuffs or fallen tree branches
Explore Your Options with Confidence
We offer three types of metal roofing – MasterRib®, stone coated, and standing seam – in a range of lovely profiles and colors, so finding an option that satisfies your tastes and complements your home's design will pose no problem. And, when we install your new roof, the project will accord with the highest workmanship standards in the industry given that only our trained employees – not subcontractors – will perform the work under the guidance of an experienced manager.
Contact All-Weather Seal today for more information, and be sure to ask about the convenient financing options we offer to qualified Midland residents.