Metal vs. Vinyl Siding: Which Is Better for Homes in Flint, MI?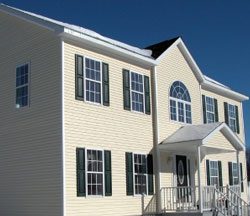 The abundance of great house siding on the market means that selecting the most cost-effective siding has grown much easier. If you're like other homeowners All-Weather Seal, Co. Inc. has served in the Flint, MI, area, you want the best value for your investment, and for many of our customers, that means vinyl siding. Few other types of siding deliver vinyl's combination of style and durability in such an affordable package.
However, some homeowners believe that metal siding comes close. As exterior home remodelers with nearly 40 years of experience, we have great expertise in evaluating siding and helping our customers make the right choice for their budget. So, let's see how metal and vinyl match up.
Durability
Metal siding is strong and can withstand high-speed impacts, strong winds, and years of weather exposure without warping, cracking, or peeling. But so can vinyl siding, and it's decidedly the more affordable option. In fact, if vinyl siding is properly maintained, it can keep on looking good and protecting your home for as long as any metal siding option.
Style
One of the strong suits of vinyl siding products is the range of available styles. Shakes, scallops, board and batten—you name it—vinyl siding is made in any style to satisfy a range of tastes and budgets. Today's vinyl siding, particularly the premium choices All-Weather Seal installs, feature a huge slate of options in rich, fade-resistant colors. For affordable siding customization in the color and design profile that will refresh your home's exterior, vinyl is a smart choice.
At All-Weather Seal, we want to provide high-value home improvement projects, and that's why we recommend vinyl siding for Flint, MI, residents. If you're interested in vinyl siding installation for your home, contact us to schedule a free consultation. It's quick, easy, and informative.