Top-of-the-Line Replacement Windows for Homes throughout Bad Axe, MI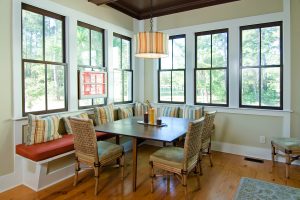 Ordinarily, finding high-quality replacement windows in the styles you prefer and with the energy-efficient features you need means conducting hours of comparison-shopping. You'll likely find that although some big-box stores in the Bad Axe area offer well-crafted windows, very often the selection is meager. One store may have the gorgeous bay window you're looking for to make your living room feel more spacious, but it comes in limited design options. Another store may carry a huge assortment of window styles, but they are produced by manufacturers you either know little about or, frankly, don't trust. All-Weather Seal Co. Inc. aims to make your window replacement experience a hassle-free experience, from start to finish.
Something for Every Homeowner
All-Weather Seal Co. Inc.  offers free, informative consultations to help you make your decision in the comfort of your own home. One of our knowledgeable representatives will sit down with you to discuss your needs, budget, and aesthetic preferences and will review options that we're confident will satisfy all of your criteria. That's because we source our windows from world-class manufacturers such as Pella®, Great Lakes Window®, and Preservation®. These exquisitely crafted products:
Are available in a slew of styles – casement, bow, and slider, just to name a few – that can complement virtually any home's architectural style
Feature Low-E glass that reduces heat transfer into and out of the home for potentially significant energy savings
Offer customization options such as grid patterns, interior and exterior frame colors, hardware finishes and more, so that you can design windows that brilliantly reflect your tastes
Which Material is Right for Your Home?
At All-Weather Seal, we install windows with frames made of three materials: vinyl, wood, or fiberglass. Each frame material has its own benefits, so here's what you should keep in mind for your upcoming replacement window installation:
Wood Windows
Wood's beauty is unmatched and can last for a long time with proper maintenance. Available in many colors and styles, wood-framed windows give homeowners great design versatility. We install wood windows manufactured by Pella®.
Fiberglass Windows
Fiberglass is renowned for its strength and durability. It's resistant to impact, rot, and corrosion, so you can count on fiberglass-framed windows to last for a long time. We install fiberglass windows manufactured by Pella®.
Vinyl Windows
Vinyl is popular as an all-around performer, offering homeowners a combination of durability, energy efficiency, and versatile design options. We install vinyl windows manufactured by Great Lakes Window® and Preservation®.
No matter which material you're leaning toward installing on your home, you're getting top-quality products with All-Weather Seal.
A Window Company You Can Count On
Our biggest commitment is to the customer. At All-Weather Seal, we go out of our way to ensure that every job is done well and every customer is completely satisfied. We're proud of our A+ rating with the Better Business Bureau and of the various awards we've won for our service. Don't just take our word for it, either: you can read reviews of our service, too.
When you choose the workmanship of All-Weather Seal, you can rest assured your project is in good hands. We only use our skilled in-house installers—never subcontractors—to ensure that our attention to detail is top-notch and to give you the best experience possible. We've strived to bring homeowners in Michigan's lower peninsula nothing but the best since 1981, and we don't plan to stop anytime soon.
Financing Available
To make it easier for you to upgrade your home with high-end replacement windows, we offer qualified Bad Axe residents flexible financing options. Contact All-Weather Seal today to learn more or to schedule an at-home consultation at a time that's most convenient to you.