Gorgeous Replacement Windows for Homes in Bay City, MI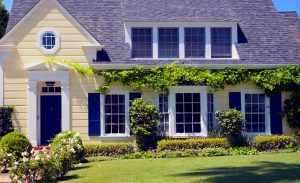 You use your windows several times a day by simply looking through them. But have you stopped to look at your windows? Have you tested whether they still open and close smoothly? Interestingly, some homeowners would prefer not to do this, because they'll discover what they suspected all along – their windows are in poor shape. They want replacement windows but worry that the cost will be exorbitant. As one of the longest-standing home improvement companies serving Bay City, All-Weather Seal Co., Inc., understands the challenges of home ownership. That's why we offer replacement window service that can put homeowners' worries to rest.
Here's What We Can Do for You
We install windows in a variety of styles to suit a range of tastes and functional needs. If you want a casement window for cross ventilation, an awning window for improved rain protection, or a slider window for simple operation, we're sure to have the style you're looking for. No matter what style you need, you can trust in the quality and long-term reliability of our windows because we source them from leading manufacturers like Preservation®, Great Lakes Window®, and Pella®. Our replacement window service also includes:
Flexible financing options to make it easier to get exactly the window features and options you want
Windows in vinyl, wood, and fiberglass to meet a variety of tastes and budgets
Options in Low-E glass for superior thermal performance or handcrafted designer glass for a touch of elegance
Masterful installation by trained company employees, not subcontractors, to ensure adherence to our industry-leading standards
Don't Overlook Energy Efficiency
Any window replacement contractors who want to be considered the best should always carry top-of-the-line replacement windows. Nowadays, energy-efficient windows are so well crafted that they are a better choice for your home than ever. That's why All-Weather Seal proudly installs some of the most high-performing energy-efficient replacement windows on the market.
Your new replacement windows could keep your home's temperature better regulated, which can help you save on your heating and cooling costs. How do they pull it off? These energy-efficient windows use several innovative features to do so:
Low-E coatings – These glass coatings are designed to let visible light pass through while blocking harmful ultraviolet (UV) and infrared rays. Not only does this make your windows more energy-efficient, but it also protects any delicate furniture or materials in your home that are susceptible to fading or getting damaged by the UV rays.
Insulated glass systems – Several panes of glass separate the outdoors from the indoors. Dense gas fills between the panes provide even more insulation by controlling heat transfer—which means warm air stays outside in the summer and inside in the winter. And the spacers that separate each glass pane keep everything sealed, which helps to keep the indoors at a consistent temperature.
Insulated frames – Some of these replacement windows' frames are filled with insulating foam, while others have hollow inner chambers designed to trap air for insulation.
And one of the best things about energy-efficient windows is that, despite their complexity, you can get them in numerous popular designs—including the classic single- and double-hung windows that will never go out of style.
Let the Best Window Replacement Company in Bay City Work for You
To start the process of installing replacement windows, we can schedule a free consultation at your home. We will take initial measurements and provide you with an estimate for windows in the style you prefer and with all the options you need. For more information about the replacement window service we offer in Bay City, contact All-Weather Seal today.