A Trusted Roofing Company Serving Brighton, MI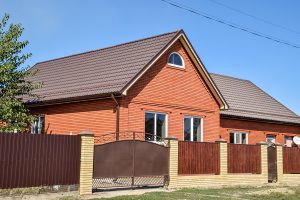 Metal is a strong, durable material,  but you knew that already. What you may not be aware of, however, is that it makes for attractive roofing that's highly resistant to weather and impact damage. If you live in the Brighton, Michigan area, you may have seen some of the metal roofs that All-Weather Seal Co., Inc., has installed on local homes.
Our metal roofing is available in several different design profiles, including MasterRib®, stone coated, and standing seam. They present an image of stately beauty that may be among the best advertisements for quality roofing. Often homeowners who admire our metal roofs say they would consider getting one themselves but express concern that metal would be too heavy for their home. It's a common misconception that we're only too happy to correct.
Metal Roofs Are Usually Lighter Than Asphalt Shingles
Metal roofs are usually a lot lighter than asphalt composition shingles. On average, metal roofs weigh 1.4 pounds per square foot, while composition averages 2 to 5 pounds per square foot. As a result of metal roofing's light weight, All-Weather Seal can save you money by installing a sturdy metal roof over your existing one without compromising the roof structure.
Metals Roofs Are Energy Efficient
Metal roofs reflect solar heat, making it easier for your HVAC system to maintain stable interior temperatures. So, in addition to a more comfortable home, you'll enjoy a built-in means of reducing your energy bills month after month.
Metal Roofs Last a Long Time
How long? Try 70 years. In fact, some metal roofs have been known to last longer. That means your investment will be amply rewarded with a robust, visually striking roof system that you'll never have to replace for as long as you own your home.
Our Roofing Company Is Here to Help
Contact All-Weather Seal for more information about the metal roofs we install for homeowners throughout Brighton, MI. One of our roofing experts will be glad to meet with you to discuss your needs, budget, and aesthetic preferences.