This Roofing Company Sets the Standard for Installation Excellence in Flint, MI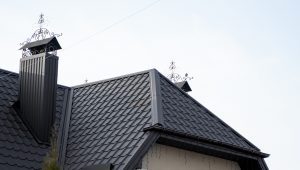 If you're looking for a low-cost roofing system, there's no doubt you can find a roofing company in the Flint area that installs one. But why go that route? A roof is the most fundamental form of protection from the elements you have, to say nothing of the aesthetic benefits it can provide for your home. For dependable long-term protection and stunning curb appeal, there are several different types of roofing products on the market, but arguably none of the superior systems are low-cost options. Superior roofs are made of tough materials proven to resist weather damage, even during brutal Michigan winters. And that's why All-Weather proudly installs metal roofing systems.
Metal Roofs for Lasting Value
Replacing your roof is an investment, so you want it to be worth every dollar. With a metal roof, you'll surely get that because we offer roofing systems that can last as long as 70 years, which means your All-Weather Seal roof will probably be the last one you'll ever need. If you have no intention of selling your Flint home, why choose any other option? Still not convinced? Then consider these other benefits:
Improved safety – Metal roofs can withstand blizzards, hail, ice, and wind gusts of up 140 miles per hour without cracking or corroding.
Enhanced energy efficiency – Metal roofs reflect solar radiant heat instead of absorbing it, which can lead to appreciable savings on home energy costs.
High style – Our systems are available in a huge assortment of distinctive design profiles and appealing colors to complement your home and satisfy your unique taste.
Furthermore, our roofs are backed by a lifetime warranty for the utmost security in your investment. We also rely on our trained employees for installations, as opposed to subcontractors, and assign an experienced supervisor to every project we perform. Contact us today to learn more about how we can serve you in Flint, Michigan.