A Trusted Roofing Company for Gladwin, MI, Homes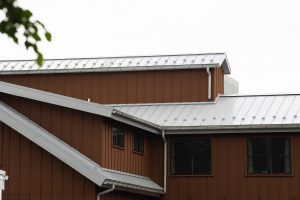 A new roof is a major investment, so any apprehension a homeowner feels about a roof replacement project is completely understandable. If you suspect that the roof on your Gladwin, Michigan, home may need to be replaced soon, get in touch with All-Weather Seal Co., Inc. As an award-winning roofing company with more than 35 years' industry experience, we can ease any concerns you may have, whether it's about the durability, looks, weather resistance, or energy efficiency of roofs. We can say this with confidence because we install premium metal roofing that offers every advantage you can expect from modern roofing systems.
A Long-Lasting Roof
It's no secret that the average metal roof costs more than the average asphalt shingle roof. But then again, when compared to shingles and other popular roofing products, no metal roof is just average. For one, metal roofs offer a much greater return on investment than other roofing types. For another, metal roofs last way longer. While the average lifespan of asphalt roofs is about 25 years, metal roofs have been known to last 70 years or more. They are also:
Remarkably strong and wind-resistant and can withstand season after season of severe weather without corroding or cracking, for protection you can trust
Energy efficient because they reflect solar heat, which can reduce your energy costs appreciably
Simple to maintain, requiring only occasional checks for dents and scuffs or fallen tree branches
Explore Your Options with Confidence
All-Weather Seal installs three types of metal roofing—MasterRib®, stone coated, and standing seam—in a variety of appealing profiles and colors, so finding an option that will complement your home will be easy. Once you've selected your design options, our trained employees will install your new roof under the guidance of an experienced manager. To give you the utmost confidence in our products and service we will back our roofing systems with a lifetime warranty. Contact All-Weather Seal today for more information, and be sure to ask about the easy financing options available to qualified Gladwin, MI, residents.