A Local Roofing Contractor Trusted by Flint, MI, Homeowners for Decades
Consider what your home's roof protects you and your family from. Whether it's driving rain, blinding sun, flurries of snow, or falling debris, it's constantly acting as your Flint, Michigan, home's most important line of defense. So, when the time for a roof replacement inevitably comes, you don't want to leave that project in the hands of roofing contractors who don't have the high-quality products or valuable experience needed to give you the best results possible.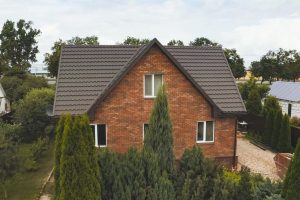 You need All-Weather Seal of Michigan, a roofing company Flint residents have trusted with their biggest investments (as well as countless other home improvement and remodeling projects) since 1981. We install premium metal roofing systems that keep homes protected for decades and provide unmatched customer service along the way.
Why Choose Metal?
Asphalt roofing is very popular around the United States, but its lifespan of 20 to 25 years leaves a lot to be desired. Why bother dealing with roofing contractors more than once while you live in your home? With metal roofing installed by All-Weather Seal, you won't have to—our roofing systems last for as long as 70 years! The only thing that will last longer than your new roof is the lifetime warranty we offer with it.
Metal works very well as a roofing material for many reasons, including that it:
Is thick, sturdy, and easy to maintain, requiring only the occasional check for signs of impact damage
Resists damage from hail, rain, and snow, and can stay put through wind gusts of up to 140 miles per hour
Is energy efficient, thanks to its ability to reflect solar heat (which helps keep warm air from entering your home during the summer, thus making it easier to maintain consistent indoor temperatures)
The Only Roofing Contractor You Need to Call
At All-Weather Seal, we set high standards for ourselves and strive to meet them every day. Here's what sets us apart from the rest:
We only use our own trained employees—never subcontractors—for every job.
We assign an experienced project manager to every project for quality control.
We offer flexible financing plans to qualified homeowners and lifetime labor warranties on all of our roofing system installations.
Contact All-Weather Seal today to schedule your consultation. We proudly serve Flint, MI, and all nearby neighborhoods.