A Trusted Local Roofing Contractor Serving Homeowners Throughout Lansing, MI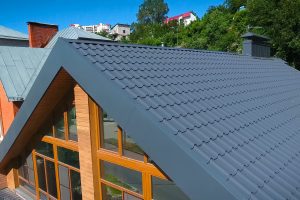 Roof replacement is a major home upgrade, no matter the size of your project or the complexity of the installation. It makes sense, therefore, that you hire an experienced roofing contractor with a verifiable record of high customer satisfaction. If this contractor also installs roofing products that deliver lasting value, then your hiring decision is almost a no-brainer. As one of the longest-tenured home improvement companies in Lansing, Michigan, All-Weather Seal Co., Inc. is more than worthy of your consideration. We have a record of success as a local roofing company that's unrivaled in the area. For proof, just look to our top contractor awards from HomeAdvisor and our A+ rating with the Better Business Bureau. As for products, we install only metal roofing, easily one of the most durable roofing types on the market.
Advantages of Metal Roofs
The new roof we install for you will amply reward your investment because metal roofs not only reliably perform the necessary function of protecting homes from the weather, but they also add rich visual appeal. And, because they reflect solar heat, they can also improve home energy efficiency. What's more, metal roofs are:
Long-lasting, with a lifespan of up to 70 years, virtually eliminating a need to replace your roof again.
Available in a variety of distinctive profiles and colors that can suit nearly any architectural design
Easy to maintain, requiring little more than removing fallen branches and checking for dents after a storm blows through
Receive Professional Roof Installation Service
At All-Weather Seal, all of roofers are extensively trained employees, not subcontractors. This way, we can ensure strict adherence to our exacting company standards. For even more confidence in your decision to hire us as your roofing contractor, we back all of our roof installations with a lifetime labor warranty.
Contact us today to learn more about why we're the preferred local roofing contractors and to schedule a free consultation at your Lansing home.