Looking for an Expert Roofing Contractor for Your Midland, MI, Home?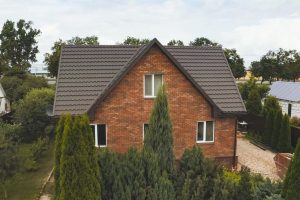 Your roof protects your home, family, and belongings from the elements and plays a major role in your home's appearance. But when you need a new roof, it's beneficial to understand the pros and cons of any replacement roofing option. Of course, cost should always be a factor, but the unfortunate reality is that many low-cost options can't provide the long-lasting home protection you likely seek. At All-Weather Seal Co., Inc., we install durable metal roofs that can last as long as 70 years. With us as your roofing contractor in Midland, not only will you avoid having to replace your roof anytime soon, but you will also enjoy the numerous advantages for which metal roofs are well-known.
Energy-Saving Protection
We install three types of metal roofing—MasterRib®, stone coated, and standing seam—in several fetching profiles and colors, so finding an option that complements your home's exterior will be easy. What's more, any of our metal roofing options can save you money on energy costs because metal reflects solar heat, which will improve your home's energy efficiency. Here are a few other benefits:
Safety – Metal roofs can withstand driving rain, snow, hail, ice, and wind gusts of up to 140 miles per hour without cracking or corroding.
Ease of maintenance – Our metal roofs are simple to maintain, requiring only occasional checks for dents, scuffs, and fallen tree limbs.
A lifetime warranty – You will enjoy peace of mind in your investment.
Why Choose Us as Your Roofing Contractor?
All-Weather Seal takes careful measures that ensure strict adherence to our stellar workmanship standards. For our roof installations, we rely on our trained employees, as opposed to subcontractors, and assign an experienced manager to every project we undertake. To make your roof replacement project more affordable, we offer flexible financing plans to qualified Midland, Michigan, homeowners. Contact All-Weather Seal today to learn more.