Expert Vinyl Siding Installation for Homeowners in Saginaw, MI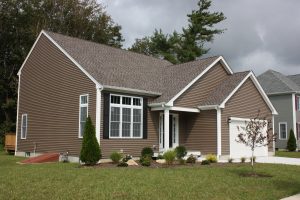 Like any budget-conscious homeowner, you want the best value for your money when you undertake a home improvement project. You've been told that vinyl siding ranks among the most affordable exterior cladding options on the market, and a quick internet search will tell you that's true. So, you're leaning toward vinyl siding. But, given that one function of siding is to insulate your home and make it more comfortable, are the options you've looked at suitable for our often frigid Saginaw weather? And, if it is, can you fully trust providers in your area to be experts at siding installation?
Why Choose All-Weather Seal Co., Inc.?
At All-Weather Seal, we can perform a siding installation that will give you complete confidence.  As one of the area's most experienced home improvement companies, we offer vinyl siding that's perfect for our region's climate.
That means it's highly durable and resistant to warping, shrinking, and swelling. It's also impermeable to moisture and humidity, so it can ward off damage from rain, snow, and melting ice. What's more, our vinyl siding:
Is engineered by Preservation®, one of the top brands in the industry
Features Preservation's ClimaShield® insulation, which boasts four times the insulation value of other vinyl siding products
Is easy to clean, generally requiring only a simple rinse with a hose
Comes in an array of eye-catching styles, including board and batten, Dutch lap board, scallops, and shakes, as well gorgeous colors like adobe cream, maple, and vintage wicker
Siding Installation With Soffit and Fascia Replacement
Since our founding in 1981, our siding installation service has been one of our most popular offerings in the Saginaw area. By combining best-in-class products, first-rate customer service, and installation expertise, All-Weather Seal has developed a strong reputation for delivering value-driven siding solutions. For example, to ensure that your new siding gives your home's exterior a near-total refresh, we'll update your soffit, fascia, and trim as part of your siding project.  This is no ordinary design refresh, however—All-Weather Seal's siding is tough, so it will restore weather protection. And, because it's also, insulated, it will effectively revive your home's energy efficiency, which can lead to monthly savings on utility bills.
Complete Siding Installation Services
Unlike some other companies, we rely only on our highly trained and trusted employees for siding installations. This way we can ensure that every job we perform meets our renowned standards for workmanship and customer service. Led by a knowledgeable project manager, our team will treat your home with special care, and, we will follow up with you after the project is completed to address any questions or concerns you have. It's this commitment to total customer satisfaction that has helped us earn an A+ rating from the Better Business Bureau.
Contact All-Weather Seal to learn more about why our vinyl siding is one of the most cost-effective ways to wrap your Saginaw home in comfort. We offer complimentary consultations and back all of our vinyl siding installations with a lifetime labor warranty.