Install Insulated Vinyl House Siding for More Thermal Comfort in Your Lansing, MI, Home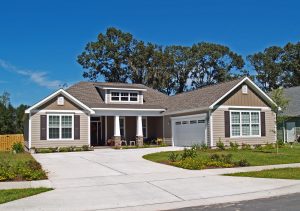 A cold home with a shabby exterior. That's basically what you can expect when your insulated house siding is cracked, loose, or generally worn down. That's because insulated siding not only helps to maintain the interior comfort of your home, but it also markedly improves the look of its exterior. If you suspect that your siding might be on the way out but you find yourself hesitant about taking on a siding replacement project, think about this: Poorly performing house siding can lead to higher heating and cooling costs. In Lansing, All-Weather Seal Co., Inc. can help you avoid high energy costs while enhancing your home's aesthetic and improving your thermal comfort. How? We install attractive vinyl house siding that has four times the insulation value of comparable products.
The Benefits of Insulated Vinyl Siding
Insulated vinyl home siding is a great option for homeowners who are concerned about their overall energy efficiency (or, at the very least, those who want to spend less money on heating and cooling bills). Thick layers of foam help regulate your home's temperature during all seasons, and it can also dampen some noise from outside your home to give you a little more peace and quiet. Overall, we think it's the best siding for a house—so we're proud to offer you some of the highest-quality siding on the market.
Made by Preservation®, one of the industry's leading brands, our insulated vinyl siding is available in an array of styles to suit virtually any architectural design. You can choose from board and batten, Dutch lap, and scallops, and be confident that whichever style you choose will blend thick, high-performance construction with the charm of a painted wood finish. But our vinyl house siding is far more durable than wood because it never warps, rots, chips, blisters, or flakes. And its thick clapboards are designed to withstand impact and resist some direct hits that would otherwise cause dents in lesser vinyl siding products.
Additionally, our insulated vinyl siding is:
Easy to clean, typically requiring nothing more than a simple rinse with a hose
Available in a wide assortment of appealing colors, such as maple, adobe cream, and vintage wicker to reflect a variety of tastes
Eminently affordable and among the most cost-effective siding options on the market
Complete House Siding Installation Service
At All-Weather Seal, we rely only on our extensively trained employees for home siding installation and have a project manager at every job site, which ensures that all of our projects adhere to our high standards. And, as part of our service, we will also replace your soffit, fascia, and trim. We take great pride in our craftsmanship on every project, no matter how big or small, because it's only right that you get the most out of your investment with us.
Since our founding in 1981, All-Weather Seal has always put the customer first. Our commitment to your satisfaction has earned us an A+ rating with the Better Business Bureau, the Consumers Energy Silver Award, HomeAdvisor Elite Service and Top-Rated Contractor honors, and—most importantly—the trust of homeowners all around Michigan's lower peninsula. If you want to know more about what separates us from other house siding contractors, read our reviews to see what residents have had to say about our customer service.
Want to learn more about why we're the house siding contractor of choice for homeowners throughout Lansing, Michigan? Contact All-Weather Seal today to schedule your free, in-home estimate for siding installation or replacement.